"

"Huge thank you to you and the absolutely phenomenal band for last night's epic concert. There were so many moments that I loved – the joy of some numbers, the pain of others, and the ability music has to deeply, truly move us." " - Director of Music, Wimbledon High School

Blues and Roots Ensemble specialises in sharing the music by the great bandleader/composer, Charles Mingus, through concerts and education projects. Led by double bassist Ed Babar, it is a diverse nonet of top international musicians from South Africa to Sicily, India to Cuba, the band has quickly grown a reputation for its captivating and raucous performances, as well as new initiatives in creative teaching and outreach work.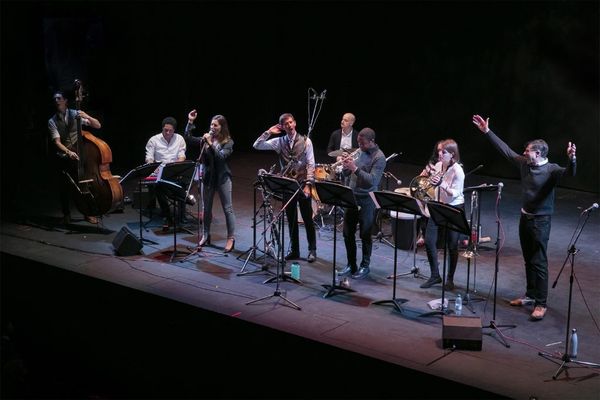 The band has performed sell out shows at prestigious venues including The Jazz Cafe, Cambridge Jazz Festival, The Vortex, Pizza Express, Soho, The Ashtead Jazz Club, Spice of Life Soho and The Elgar Room at The Royal Albert Hall.
In 2018 BARE was the lead partner for EFG London Jazz Festival Learning and Participation Programme - a series of workshops with 60 participants of all musical abilities aged between 7 & 75, culminating with a massed performance of a specially commissioned "Mingus Suite" at the Southbank Centre.
The education workshops use Mingus' music as a catalyst for actively exploring the concepts of jazz music and of capturing creativity in music.  The ethos of the Mingus education strand is that music is the medium enabling people of all musical abilities to have voice to express themselves.  
Blues and Roots Ensemble has led education workshops in all contexts, from mainstream primary and secondary schools, SEN schools, Pupil Referral Units to large outreach projects with London Jazz Festival and Cambridge Jazz Festival.